How are you spending this hot summer weekend? Hopefully you've found some time for your Happy Place.
Sadly, there is no time for sewing for me today as I'm putting the final touches on our fall newsletter. I've been working on securing some amazing surprises for you all in the coming months at Strawberry Patches. Do you know how hard it is for me to keep a secret? I'm absolutely miserable not being able to share what's coming but I do have one exciting bit of news that I can share.
          Downton Abbey® is coming to Strawberry Patches!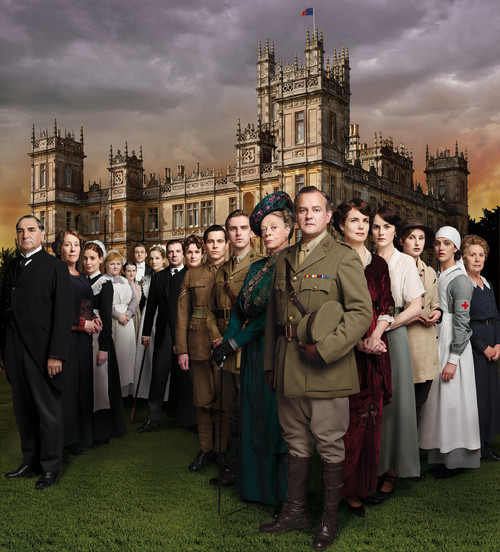 If you are like so many of us, you are probably already addicted to the story line, the characters, the gorgeous set design and the amazing costumes of this run away hit PBS series. If you haven't yet seen the series you can catch up by purchasing the first three seasons on DVD at places like Walmart or Target or by watching them on your computer via Hulu or Netflix. I can't think of a better way to spend a hot Sunday afternoon than by watching previous episodes of Downton Abbey® while sewing.
Call me a dork but I get chills everytime I watch this trailer!
Speaking of sewing, Andover Fabrics has partnered with the people at Downton Abbey® to create the first exclusive collection of licensed fabrics for Downton Abbey ®.  Playing on the strength of the upstairs women of Downton, the exciting premiere collection will be THE WOMEN'S COLLECTION, featuring designs chosen in collaboration with the award-winning Downton Abbey production team.
The full collection will be available at Strawberry Patches when it is released in November.

We are so excited to host a Downton Abbey® Tea at Strawberry Patches on Friday December 13. (I'm giving you plenty of time to get the day off, gather your girlfriends and make travel plans). Dennis - one of my favorite people from Andover will be here to show us some behind the scenes footage from the show, a video of the costume and production designers speaking about the show and of course there will be lots of door prizes and plenty samples and quilt kits from the collection. So wear your prettiest hat and come for tea.
           It's Downton Abbey® Day at Strawberry Patches!
Encourage one another,